DTZ, an international brokerage with offices in Baltimore among other places has just listed 100 Light Street for sale on January 28, 2015.  That building is commonly known now as the Transamerica building.  For a long time,it was known as the Legg Mason building. How low will the cap rate go?
The building is 549,000 square feet and 35 stories.  Having signed up Transamerica, Ober Kaler and Miles and Stockbridge to backfill the departure of Legg Mason, it is expected that significant international interest that will drive the price up and the cap rates lower.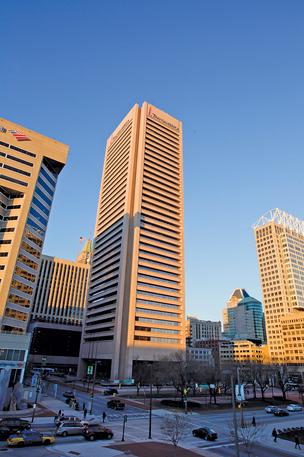 The teaser from DTZ states the following about the property:
Offering Materials are now available for the Transamerica Tower, a 35-story, 549,273-square-foot, 92% leased, Class-A trophy office tower in Baltimore's central business district (CBD). The building is themost preeminent and recognizable building in the Baltimore City skyline; it boasts a premier "Main & Main" location at Pratt and Light Streets; it is just steps from the gateway to the Inner Harbor, the number one tourist attraction in the state of Maryland and the most amenity-rich area in the city; and the property is the tallest building in the state of Maryland at 35 stories. Originally constructed in 1973, current ownership has invested more than $46 million in capital improvements over the last five years, yielding a property with its own separate 550-space parking garage as well as ground level retail, a pre-eminent location and tremendous on-site amenities that include a new plaza with water views, a two-story glass lobby, a private restaurant, meeting space, an employee dining room, and fitness center.

The Transamerica Tower boasts a rent roll of tremendous credit and term that includes Transamerica Life Insurance Company (a subsidiary of Aegon (NYSE: AEG) – public market value of $18 billion), as well as national law firms Miles & Stockbridge and Ober | Kaler. The property serves as the headquarters for each of these three tenants, with the three combining to represent nearly 70% of the rentable square feet in the building. The Tower has the best vehicular access of any building in the city to points north, south, east and west, and allows for parking both under the building as well as across Lombard Street in the 30 Light Street parking garage that will convey with the building.

This offering represents a once-in-a-lifetime opportunity to acquire the most recognized, trophy office building in Baltimore, with durable credit and lease term at a price per square foot basis below replacement cost on the coveted Pratt Street corridor.

Rare Opportunity to Acquire Dominant Regional Property
Once-in-a-lifetime opportunity – the property has never been sold on the open market
Most iconic building in Baltimore and the tallest structure in the state of Maryland
Strong In-Place Tenancy with Tremendous Term & Credit
Weighted average lease term of nearly 8.5 years
Portfolio of 30 & 100 Light Street is more than 91% leased
Three largest tenants account for 70% of the building with average term of nearly 11 years
Prime Location within Steps of Baltimore Inner Harbor
Located at the core of Baltimore's Pratt Street Corridor (Intersection of Pratt & Light Streets)
"Main & Main" location and immediate proximity to the Inner Harbor
Wealth of amenities both on-site and within steps of the property
Tremendous Capital Investment Has Created Dominant, Amenity-Rich Property
$46 million in capital investment over the last five years
New plaza with water views, a two-story enlarged glass lobby and atria
Private restaurant and meeting space, employee dining room, fitness center and barber shop
Prominent Space on Baltimore Skyline Provides 360-Degree Views of the City
35-story building is the tallest building in the state of Maryland
Panoramic views of the city and the host of amenities surrounding the building, including Oriole Park at Camden Yards, Ravens Stadium, and most notably the Inner Harbor
Convenient Access to Major Commuter Arteries
Transit-oriented location with tremendous access to public transportation (Amtrak, MARC, Light Rail, Metro, bus & water taxi)
Located just minutes from the region's principal thoroughfares, I-95, I-295, I-83 and I-695
Explosive Growth in Downtown Residential Investment
Surging residential development (8,400 new residential units completed in Baltimore since 2010, 3,200 currently under construction)
Boom in millennial residents is driving enormous expansion of amenity base
100 Light is surrounded on all sides by current and near term multi-family development projects
Parking Garage in Adjacent 30 Light Street Provides Diversity of Income
Adjacent 30 Light Street includes both 11,678 SF of ground-floor retail space and a 550-space parking garage
Contributes significant income & adds to 100 Light Street's dominant position
To keep up on details please visit www.crewbaltimore.org and follow @crewbaltimore on twitter.  Watch for more details as articles are bound to appear in the coming months on what may be one of the top local deals in the Baltimore Commercial Real Estate investment world and see how low cap rates will go.
Howard Sobkov